OVERVIEW:
This content section includes popular magazines featuring pre-1949 hot rods and street rods that started publication between 1945 to 2020 in the United States. Although men and women were hot rodding from the earliest days of automobiles, hot rods became more prominent right after World War II. In these six decades was the hot rod and custom movement in full bloom, the street rod transition, the changing interest in hot rods as muscle cars emerged, and the continued application of new performance and appearance technology to these older vehicles.
TITLE RANKING BASED ON REPORTED PRINT VOLUME:
Hot rod titles, rank ordered by reported print volume, can be found HERE.
TIMELINE:
The image below shows the lineage and life span of each title covered in this section.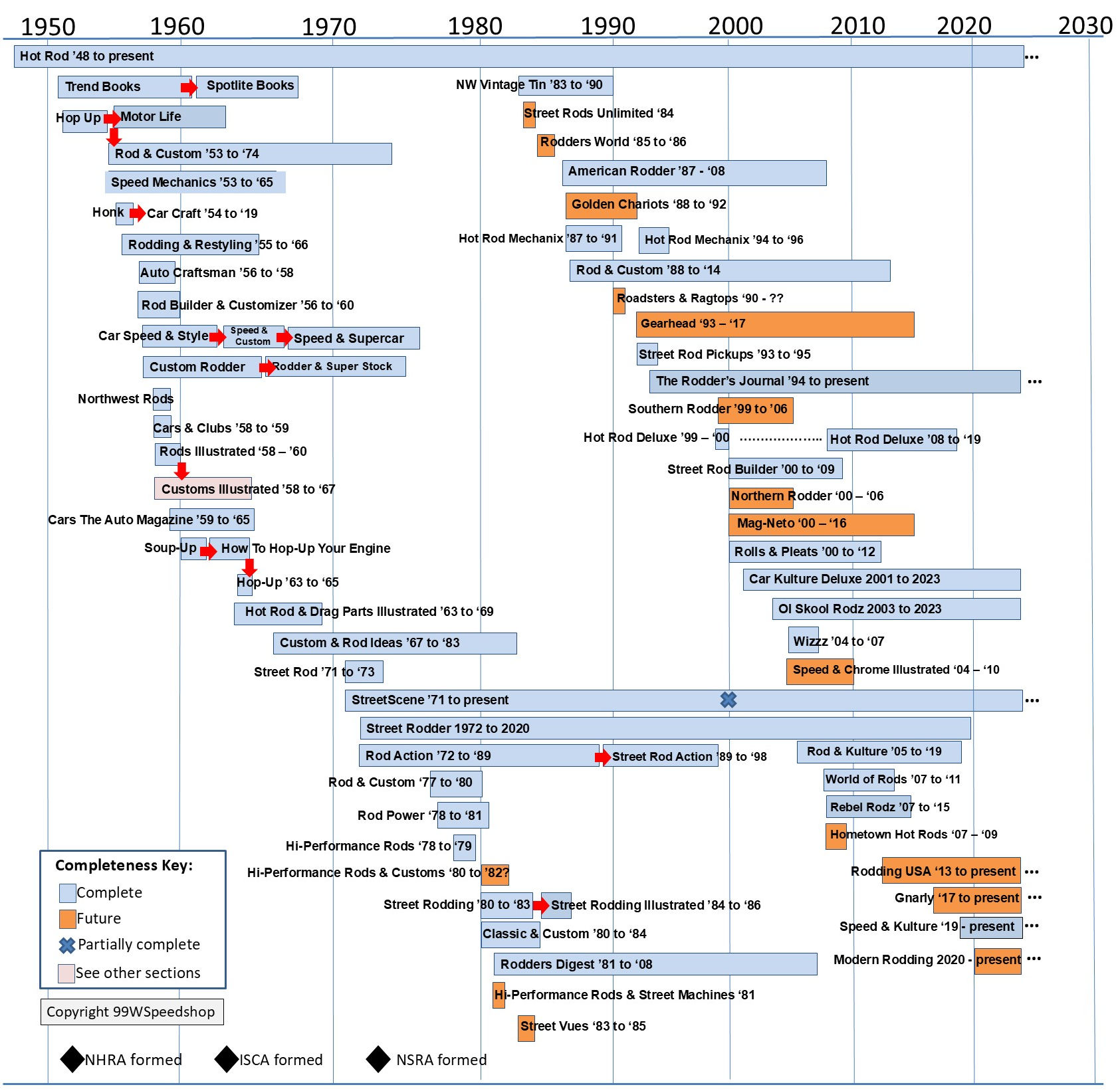 1920s / 1930s - EARLY HOT RODS:
Since much has been written about this time period in several excellent books, I won't repeat this crucial history in detail. However, the general highlights are included so it is easier to tie that history to the evolution of hot rod, street rod and custom car magazines. Typically, automotive trends occur well before an entreprenuer creates a publication dedicated to the trend. So magazine may lag the start of a trend, but they capture the point where a car or style reaches a critical point.
Early hot rods were associcated with dry lakes racing in the deserts of California. Guys were using old Chevy and Ford roadsters to build racing cars. These were stripped-down, fenderless vehicles. The first speed shop was created in 1931 by George Wight with Bell Auto Parts, and rodders purchased heads, manifolds and carburetors in an effort to go faster. And the first organized racing event occurred at Muroc also in 1931.
Although there were no widely distributed publications, a limited run of Throttle magazine captured the activity on the dry lakes just before World War II was declared. When war broke out, the entire staff joined the effort and the magazine ended.
1940s - HOT RODS AFTER WORLD WAR II:
The talent and manufacturing might of the United States was directed to the war effort. When GIs returned, many resumed their dry lakes racing activities with newfound technical skills in welding, fabrication and mechanics. Hot rodding became a teen and young adult craze. Racing expanded to include unsanctioned street racing, loosely organized drag racing and dry lakes racing. There were more after market speed part manufacturers, and rodders utilized Ford flatheads and, later, more modern engines such as the new overhead valve (OHV) engines from Chrysler, Oldsmobile, Buick and Chevrolet.
The Southern California Timing Association (SCTA) was formed as a sanctioning body and developed better defined classes, technical inspections and safety standards. This was to promote safety and make the sport more legitimate. The organization also hosted the first Hot Rod Exposition at the Los Angeles Armory in 1948. Robert E. Petersen launched Hot Rod magazine at that event. This magazine was and is a dominant force in the automotive publishing industry. Hot Rod successfully covered all forms of hot rodding, factory performance cars, drag racing and street rods. But specialty, focused titles found important niches and interests, and so the automotive publishing industry grew and thrived.
1950s - HOT RODDING EXPLODES:
Many consider the 1950s as the golden era of hot rodding. The National Hot Rod Association (NHRA) was formed in 1951 with the purpose of getting young people off city streets and into organized drag racing events. Every car club wanted a drag strip, and the NHRA helped them by providing insurance and teaching them about safety. The first sanctioned event was in 1953, and the first national event occurred in 1955. Attendance increased at drag racing events.
At this point, it is worth making an important definitional distinction between hot rods and street rods. These terms are often used interchangeably. By one definition, however, original "hot rods" were dual purpose vehicles. They provided daily transportation, but were readily available for racing. Owners might drive to an event, remove fenders, headlights and other equipment, race the vehicle, then bolt everything back on before heading home. Drive it in, race it, and drive it home!
Street rods, however, were built for the street and lost their dual purpose function. This change occurred during the 1950s as racers realized they couldn't be competitive with a dual purpose vehicle. Winning required engine setback, driver relocation and gutting of the body. The best examples for this realization occurred in 1950 with Dick Kraft's The Bug dragster, the forerunner of front engine rail jobs. It was also represented by Art Chrisman's #25 racer.
As the 1950s evolved, Detroit was building factory performance cars. These cars were often raced, but in many cases they allowed the rodder and racer to have the best of both worlds - a factory performance car with reliability and a warranty, and a special purpose race vehicle. Rodders abandoned dual-purpose vehicles, and so rodding split into multiple branches. Rods in this era focused more on appearance, with nicer paint jobs, chrome and upholstery. This was best represented by two classic hot rods - the McGee roadster and the Doane Spencer roadster. They each had wonderful proportions and stance, performance and eye appeal.
This era also saw the emergence of almost two dozen car magazines focused on these different genres. Such titles as Car Craft, Hop Up, Rod & Custom, and Rodding and Re-styling were available to eager readers. These magazine provided how-to information and showcased what was going on in the hot rod world. It was an equally important channel for advertising as more equipment and reproduction parts were starting to be made.
1960s - HOT RODDING BRANCHES INTO DRAG RACING AND STREET RODDING:
Trends that started in the 1950s continued into the 1960s. Performance technology from Detroit found its way into rods. Many rods were built, torn apart and re-built with this newer technology. Show cars and some street rods continued to evolve, though cars generally got wilder and wilder (some would say "kookie")! There was a sense that builders were trying to out do each other.
Another interesting trend was the car club. As interest in traditional rods waned, they were rarely seen on the street of Los Angeles. Dick Scritchfield, a Hot Rod staffer began putting flyers in traditional cars as he came upon them. He started informational meetings, and this ultimately became the Los Angeles Roadster club in 1960. This and other clubs often did rod runs, and in 1961 the Los Angeles and Bay Area clubs met in Pismo Beach, CA. Clubs continued to form, and rod runs became popular throughout the decade. It culminated with the formation of the National Street Rod Association (NSRA) in 1970, along with the first national rod run to Peoria, Illinois.
This era saw the emergence of many new titles, including Popular Hot Rodding, Speed and Custom and custom car titles like Custom Craft and Popular Customs. Note that many publications had content covering multiple genres such as drag racing with factory performance car reviews, hot rods with customs, etc. East Coast published titles often portrayed this duality with frequent title changes to re-position their magazines based on rapidly changing readers' interests.
1970s - STREET RODDING EXPANDS:
The NSRA had its first street rod event, and this was limited to pre-1948 vehicles. With its roots well documented by Rod & Custom magazine, it embraced the idea of building traditional looking hot rods and customs using more modern components. It was a reaction to the wild designs and competitive nature of builders. Those who led this movement loved these old cars, and they built a movement around a real sense of community. Street Rodder specifically described this lack of snobbery as refreshing.
An important vehicle that captured the progressive street rod movement was John Buttera's 1926 Model T Tudor. It was powered by a Ford 289 and had all independent suspension, digital clocks, climate control and even idiot lights! These real improvement came about because rodders attained the skills to use better and more expensive tools. And it was powered by all the technology coming out of Detroit in the 1960s.
Multiple street rod magazines emerged in the early 1970s - Street Rod, Street Rodder and Rod Action. They avoided the "hot rod" versus "street rod" debate and openly embraced cars up to 1972. It harkened back to the early days of hot rodding, and the heavy focus on racing was removed from the content. Old cars were meant to be driven and enjoyed!
Also noteworthy was the emergence of more reproduction parts for restorers and hot rodders. Pete and Jake's started in 1974, and they offered many parts for traditional rods. Rod & Custom noted the lack of "vintage tin" body and fenders, and manufacturers like Dee Wescott (Oregon), Brown Mold Design (Illinois), Dwight Bond of Gibbon Fiberglass (Nebraska) and later Brookville made fiberglass body components. This allowed rodders to build traditional cars with pre-made components (some fabrication and assembly required)!
By the late 1970s, the importance of early rods was recognized when guys like Bruce Meyer began collecting and restoring historically important race cars and hot rods.
1980s / 1990s - MODERN STYLES:
The "big news" in the 1980s was the smoothie or high-tech style. In this styling treatment, cars used billet aluminum, handbuilt components, modern technology, and they were streamlined by removing door handles, louvers, trim, etc. Wild colors including pastels were often used. Early examples were the Vern Luce coupe (1981), John Buttera's Model T that was stretched, smoothed and used V6 power (1982), and the ZZ Top '34 Ford coupe (1983). This style influenced all types of vehicles (not just pre-1948 rods), and it permeated all aspects of rodding through the 1980s and 1990s.
New rodding magazines emerged in the 1980s. Rodder's Digest and American Rodder both embraced the smoothie style.
FINDING AND RESPECTING TRADITION:
The counterpunch to the smoothie style and its high dollar game of one-upmanship was represented in two iconic cars. The first was Jim Jacob's Jakeopage, an unfinished '32 Ford touring. The second was Robert William's Eights and Aces '32 Ford coupe. Both are credited with creating renewed interest in traditional hot rods and customs from the 1950s and 1960s.
Notable publications included a resurrected Rod & Custom, The Rodder's Journal, and Hot Rod Mechanix. Each focused on traditional styles. Hot Rod Mechanix is considered the last magazine for the "scrounger" hot rodder, and The Rodder's Journal took a historical and preservationist approach to rodding traditions.
By the early 2000s, the traditional movement was in full swing. This was reinforced by the younger generation's interest in the 1950s music, art, tatoos, pompadours and garage built hot rods. New magazines included Car Kulture Deluxe, Ol' Skool Rodz, Rebel Rodz, Rod & Kulture, Hot Rod Deluxe and World of Rods.
CONTACT US:
Email: info_99wspeedshop@yahoo.com