OVERVIEW

This content section is dedicated to hot rod, street rod and custom car magazines from 1945 to 2000 in the United States. Although men and women were hot rodding from the earliest days of automobiles, hot rods became more prominent right after World War II. In these three decades was the hot rod and custom movement in full bloom, the street rod movement, the emergence of muscle cars, and drag racing's evolution to a high dollar sport.
The image below shows the lineage and life span of each title covered in this section. A few, such Street Rodder and Hot Rod survive today. Many started in this period and lasted a long time, such as Rod & Custom, Rod Action and Popular Hot Rodding. But most are long gone.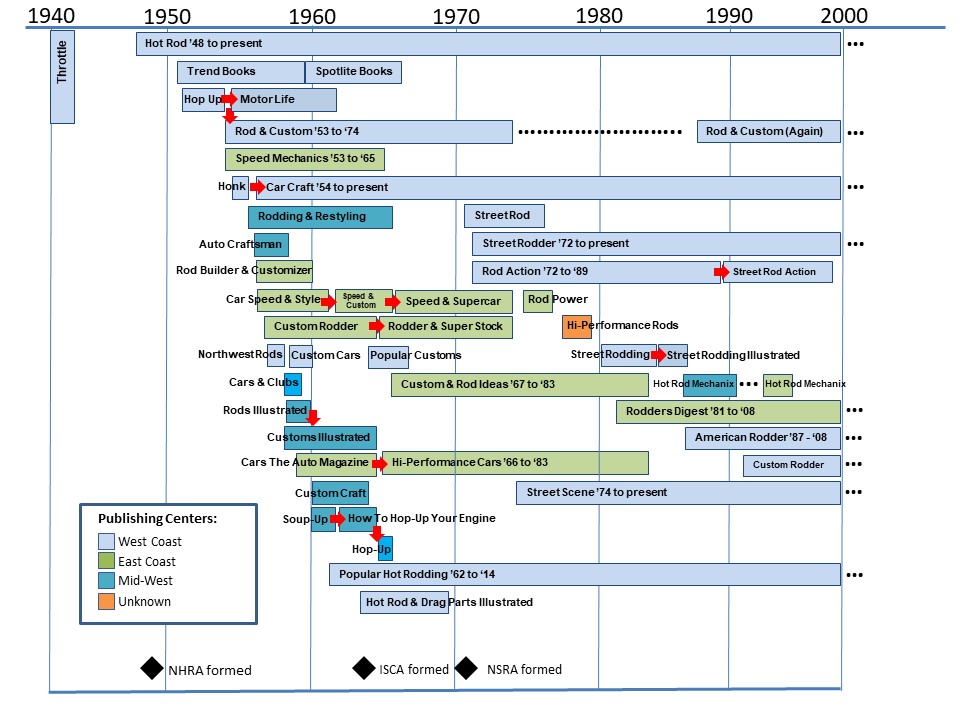 WHAT'S NEW IN THIS SECTION

This content section is largely complete with desired titles up to 2000. However, additional years of publication will be added to existing titles as time allows: American Rodder, Car Craft, Custom Rodder (Again), Hot Rod, Popular Hot Rodding, Rod and Custom (Again), and Street Rodder. And, content will be expanded to include new titles from the 2000s: Street Rod Builder, Car Kulture Deluxe, Hot Rod Deluxe, Ol' Skool Rodz, Rod & Kulture, and World of Rods.
CONTACT US
Email: info_99wspeedshop@yahoo.com