OVERVIEW

This content section includes those magazine titles with a primary focus on drag racing. When more formal and sanctioned drag racing started in the early 1950s, most coverage was done by publications like Hot Rod that covered all aspects of rodding and racing. It wasn't until the 1960s that specialist titles like the ones in the timeline graphic below began to emerge.
The first publications were often weekly or bi-weekly newspaper style magazines with racing coverage and often a regional focus. Then monthly, full featured magazines emerged like Drag Racing, Modern Rod and Super Stock and Drag Illustrated. The major sactioning bodies had their own publications, such as NHRA's National Dragster and AHRA's Drag World
Some drag racing content moved in the late 1970s and 1980s to those titles that also covered performance and muscle cars. Muscle and performance cars can be found HERE.
The image below shows the lineage and life span of each title covered in this Drag Racing section. This section is far from complete, as there were dozens of small magazines published in all parts of the United States.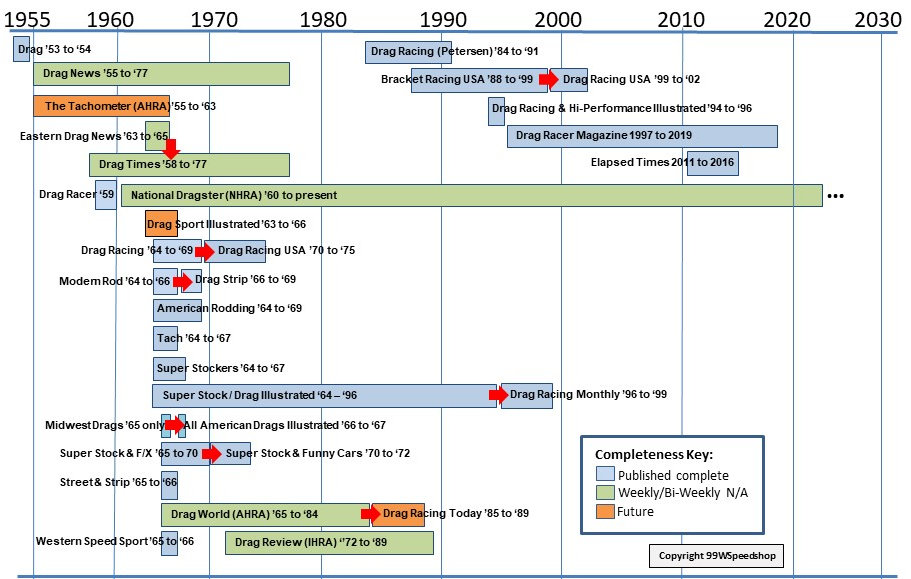 CONTACT US
Email: info_99wspeedshop@yahoo.com