OVERVIEW:
This content section includes those magazine titles with a primary focus on 1948 and later performance oriented factory cars plus those modified for street and track use.
TITLE RANKING BASED ON REPORTED PRINT VOLUME:
Muscle car titles, rank ordered by reported print volume, can be found here.
TIMELINE:
The image below shows the lineage and life span of muscle car titles included in this section, in the Chevrolet/GM only section, and in the Mopar section.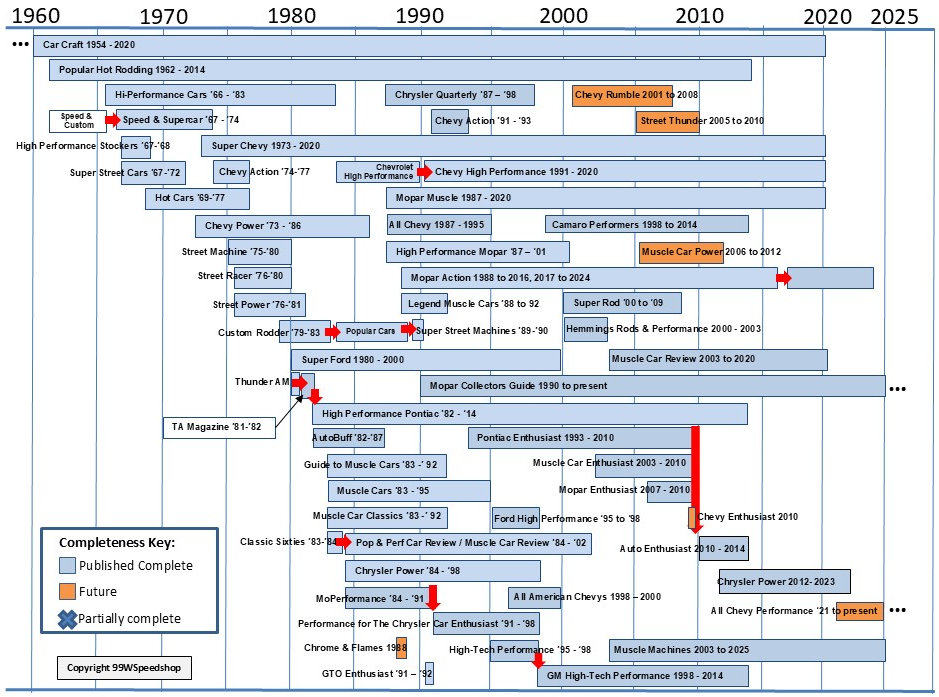 THE MUSCLE CAR ERA
The original muscle car era is often debated as to when it started and ended. Some declare the Olds Rocket 88 of 1949 as the start, but others point to 1964 and the very successful Pontiac GTO launch as the start. We will use 1964 as the reference starting point for muscle cars. This period reached a crescendo in 1970 when horsepower was at its peak, but then it went through another decade in a slow decline.
There were strong performance models through at least 1973. In 1974, however, muscle cars began to shrink in stature and performance. Some vehicles became "appearance packages" such as the mid-1970s Chevy SS and Old 442. The end is best marked as 1979 when all that remained was found at either Chevrolet (with the Z28 and Corvette) or at Pontiac with the Trans Am.
The aftermath of this first wave is not a linear story. Multiple themes and trends are interspersed into an interesting history of the period from the early muscle cars to the present. Key considerations:
Much like the cars of the 1920s and 1930s that were feedstock for early hot rods and later street rods, muscle cars became old cars. As old cars, they were often driven hard by their youthful owners. They were heavily modified in the fashion of Pro Stock cars. Many were permanently modified for drag racing.
At some point, and likely starting with the cars most desireable in the day, people began undoing some of these modifications and made their cars stock appearing. This might take the shape of a rebuilt car, a fully restored car with "new old stock" (NOS) parts, or a search for a matching numbers, original car. As we all know, demand increased for these cars and prices went through the ceiling.
For those less desireable and thus more affordable vehicles, they lended themselves to being fun old cars and quality drivers. These cars benefitted from the continued evolution of technology, and allowed owners to add better suspension, brakes, drivetrain components, tires and fuel delivery systems. These trends became pro-touring and g-machines in the 1990s.
TITLES OF THE 1970s
The magazines of the 1970s were focused on technical tips and performance, and it was common to see articles with performance part numbers. Chevrolet seemed to be well represented in titles with such offerings as Super Chevy (1973), Chevy Power (1973), and Chevy Action (1974). General publications were well established and included Hi-Performance Cars (1965), a strong East Coast publication, and two West Coast titles - Hot Rod (1948) and Popular Hot Rodding (1962).
Another interesting trend were street machines. The NHRA had created the Pro Stock class in 1970, and folks were creating street versions of these vehicles. It would mimic the race-car look with giant hood scoops, flashy graphics and big and little drag tires. Later, they were typically tubbed and had a supercharger. Magazines that covered this space included Car Craft (1962), Street Machine (1975) and Custom Rodder (1979). The Street Machine Nationals started in 1977 with 1,300 cars, peaked at over 5,000 cars in 1988, and declined to 791 cars by 2004. So the trend started in the 1970s, peaked in the 1980s and was in decline through the 1990s.
MAKE AND MODEL SPECIFIC TITLES IN THE 1980s
Over a dozen Corvette-centric magazines were started in the 1970s, especially as the GM-published Corvette News publication was winding down. It makes sense that Corvette was one of the first into this space as it was a vehicle that was always desireable. In the late 1970s, a Mustang-focused title emerged, Mustang Monthly (1978).
By the next decade, Chrysler and Ford products were better represented, and this genre exploded. Super Ford (1980) and Thunder AM (1979) led off early, but were followed by other titles including Chrysler Power (1984), Mustang Illustrated (1986), Chevrolet High Performance (1986), All Chevy (1987), High Performance Pontiac (1982) and High Performance Mopar (1986). Some of this expansion was due to new desktop publishing capability, allowing a small publisher with a good network of experts to put together content that appealed to the person who was interested in a specific model.
All these titles did well since they included content on old and new muscle, performance how-tos, restoration tips and, when possible, allowed an outlet for the manufacturers to showcase new models in the development pipeline. This last element worked well for Corvette in the 1970s and later helped Ford with the 1982 Mustang GT and again when the retro muscle cars emerged in the 2000s, e.g., Ford Mustang and Dodge Challenger. The suppliers behind performance technology had a very focused outlet for their advertising dollars. And more and more restoration parts were available, especially when GM developed and launched its reproduction parts program at SEMA in 1989.
MUSCLE CAR RESTORATION MAGAZINES
In the early 1980s, a new genre emerged. These highlighted vintage, typically restored, muscle cars and described their technical and performance aspects. Other content included how-to tips, restoration tips and highlights of new factory performance models. Examples included Guide to Muscle Cars (1983), the Schneider Performance Muscle Cars (1983), Classic Sixties (1983), Muscle Car Classics (1983), Muscle Car Review (1984) and the Legend Series by Cars & Parts (1988) magazine.
Ultimately, we came into the 2000s with a wide range of options for how vintage muscle cars are owned and used. Magazines cover full-on restorations with NOS parts, mint unrestored highly optioned survivors, survivors with heavy patina, clones, resto-mods, lovingly restored drivers, heavily modified pro-touring vehicles, and drag racers. This diversity is made much easier by the magazines of the last seven decades along with manufacturers that make reproduction and performance parts.
CONTACT US:
Email: info_99wspeedshop@yahoo.com