OVERVIEW:
This content section includes those titles dedicated to Chevrolet Corvettes.
Corvette magazines were published by General Motors for owners, numerous Corvette clubs and also by national publishers.
Almost all had very low print production, especially club titles. This makes them hard to find and thus hard to validate beginning and ending dates. Corvette owners seemingly treasure (hoard) these magazines!! So, we have a lot of work to do to complete this section.
TITLE RANKING BASED ON REPORTED PRINT VOLUME:
Corvette magazine titles, rank ordered by reported print volume, can be found HERE.
TIMELINE:
The image below shows the lineage and life span of each title in our library. There are many more titles than what is shown in the timeline graphic below. A few of these other titles with uncertain dates include Corvette Classics, Custom Vettes, and, Good Times.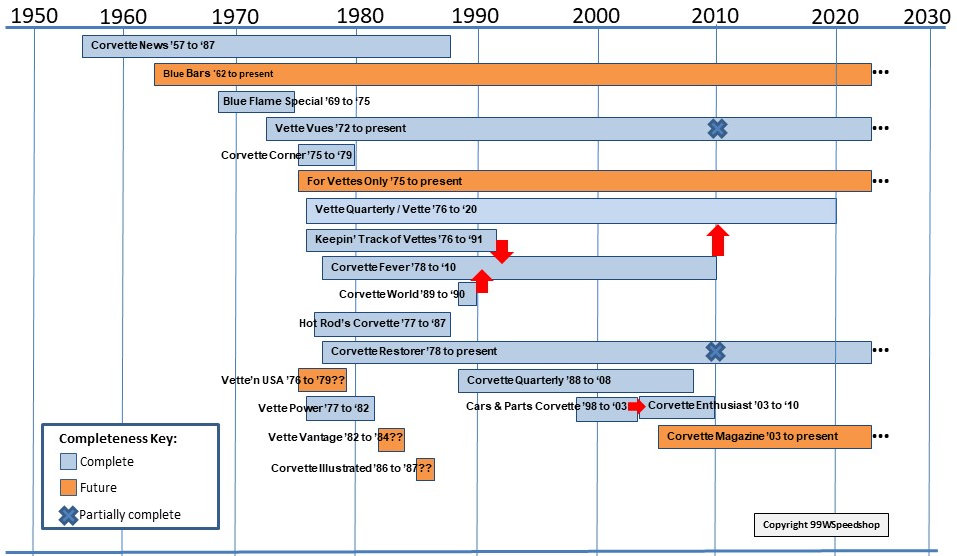 CONTACT US:
Email: info_99wspeedshop@yahoo.com