The images of Volkswagen, dune buggy and VW-powered magazine covers are accessed by the links to the left. Simply click on each magazine title to see the covers.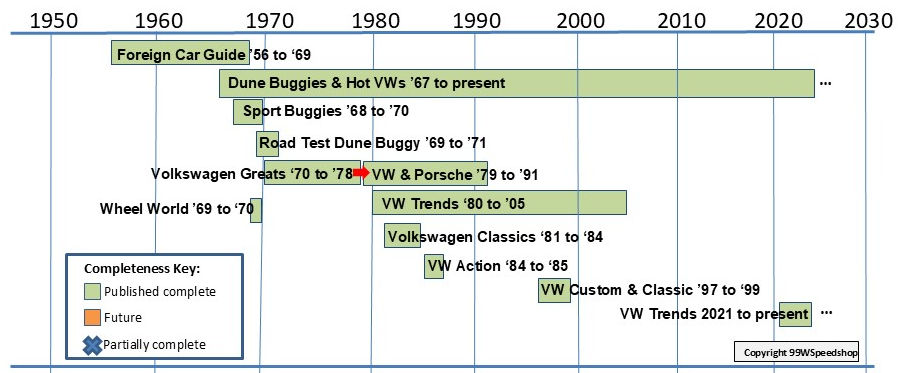 DUNE BUGGIES AND THE ROOTS IN HOT RODDING
Besides the early interest in back country exploring and camping with four wheel drive vehicles, hot rod innovators on the West Coast were building early dune buggies or "sand bugs" for the deserts or beaches. Rod & Custom featured one of the first articles on this craze in the October, 1954 issue.
Cars were built using Model T and Model A components with short, 75 inch wheelbases and V8 power. These were run near the Salton Sea in California and in areas around Yuma, Arizona.
And on the California beaches, guys were also building and running homemade sand bugs. It was common to weld two wheels together to get more of a tire footprint on the sand. Many were experimenting with Volkswagon Beetles with the body removed, as the trailing arm suspension worked very well in the sand.
In the early 1960s, Bruce Meyer observed guys running VWs with the body removed. He created a unique body to bolt to a shortened VW chassis in late 1963 and early 1964. As he demonstrated his creation, motorcycle racers mentioned the 832 mile road race from Tijuana to La Paz Mexico. The best time for motorcycle riders was 40 hours. When the racers laid down a challenge, Bruce accepted it and beat the motorcycle guys by five hours. When this news hit the media, Bruce was inundated with orders for his body. And people wanted to participate in this race which led to the formation of the National Off-Road Racing Association (NORRA) and the Baja 1000.
Immediately, magazine publishers jumped on the new trend and began publishing dedicated dune buggy magazines such as Dune Buggies and Hot VWs (1967), Sport Buggies (1968), and Road Test Dune Buggy (1969).
Sport Buggies was folded into Four Wheeler in 1970, and Road Test Dune Buggy only lasted three years.
PERFORMANCE ORIENTED VOLKSWAGENS
Volkswagens, especially the Beetle, are a great platform for customizers, hot rodders and off-road oriented racers. And as noted above, it provided a great platform for rear engined kit cars. Two strong magazines emerged to subsume dune buggy content and also add other performance oriented VW features and how-to's. These were Volkswagen Greats and its successor VW & Porsche.
CONTACT US
Email: info_99wspeedshop@yahoo.com