The images of magazine covers are accessed by the links to the left. Simply click on each magazine title to see the covers.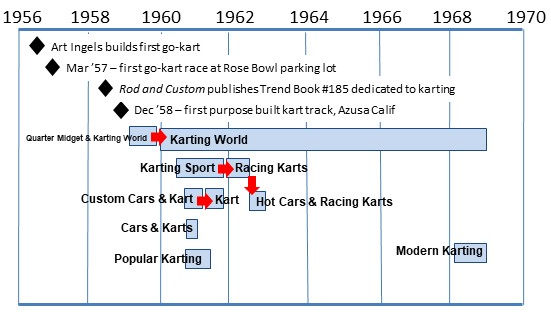 GO-KART HISTORY PRIOR TO 1960:
Karting magazines had a rapid rise and fall that tracks with the faddish dynamic of the hobby. The first go-kart was built by Art Ingels of Los Angeles in 1956. His buddies also built go-karts, and this resulted in a famous 1957 "play day" for builders at the Rose Bowl parking lot in Pasadena. The go-kart craze got more traction in 1958 with Petersen Publishing's Trend Book #185 on karting, the debut of Ingel's kart at a race event at Pomona, and the construction of a purpose-built kart track in Azusa, California. It was at this track where the first official karting competition occurred.
Karting was featured in many of the popular hot rod magazines including Rod & Custom, Hot Rod and Car Craft. For example, Rod & Custom had a significant number of articles in 1959 and 1960 before the emergence of speciality karting magazines as described below.
Go-karts proved very popular due to the low costs involved to purchase and race one. Before go-karts, there was strong interest in midget racers including quarter midgets. These racing events started in the 1930s and continued into the 1950s. But it became costly to get into the sport, and go-karts provided a low cost alternative in the form of good fun and recreation.
KARTING MAGAZINES 1960 TO 1962:
Five karting magazines were launched in the early 1960s and most within a few months of each other. Yet most had ceased publication by 1961 or 1962. Only Karting World, an early entrant, thrived. Like all magazines, survival depended on advertising. A large number of go-kart manufacturers started in the late 1950s and early 1960s, and they were fighting for market share. Designs were rapidly changing, and engines and speed parts evolved almost weekly. Advertising and feature articles in these publications highlighted the latest and greatest way to have fun and win!
Simultaneously, go-kart tracks sprung up in towns all over the United States. These were run as hobby businesses, and karting was considered a recreational sport.
THE FAD IS OVER, ONLY THE COMMITTED REMAIN:
Karting is NOT dead!! But as the fad peaked, only Karting World continued publication. But other automotive magazines covered the hobby including Rod & Custom. It continued to provided considerable karting content through 1968 when such content was mostly eliminated.
Several factors ended the craze and thus the magazines dedicated to karting: (1) the rapid evolution of karting technology made it expensive for recreational racers to remain competitive; (2) European designed karts became more popular; (3) US engine manufacturers left the hobby, and European manufactuers emerged; (4) international kart racing shifted to Europe, and, (5) less American participation and weakened sanctioning bodies caused U.S. tracks to close.
CONTACT US:
Email: info_99wspeedshop@yahoo.com