The images of magazine covers are accessed by the links to the left. Simply click on each magazine title to see the covers.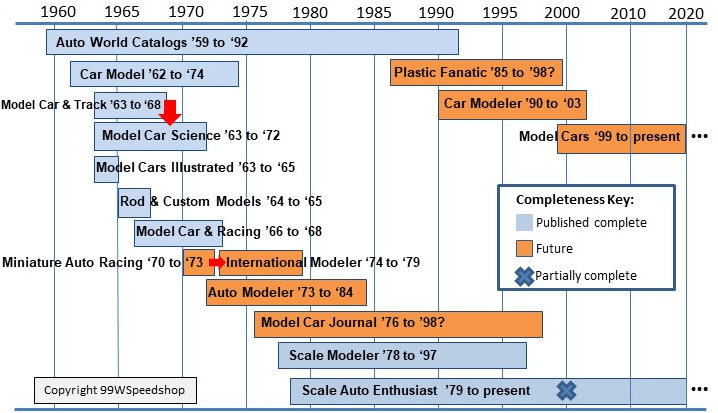 MODEL CAR KITS:
There is a long history of car model building that goes back to the time when the automobile first appeared. Collectors and kids wanted scale models of the real thing. Early hand built models might have been made from brass, tin, or wood. Toy manufacturers got in the game, and scale cars and trucks were made of diecast metal by companies such as Arcade and Tootsie Toy. In the late 1930s, automobile manufacturers hired companies such as Banthrico, AMT, Ideal and PMC to build scale models of Detroit designs. Made from metal or plastic, these were given to car buyers and their kids as a means to promote their new designs and generate orders for new cars. They were called promotionals.
The first model car kits were made by Ace and Berkeley and used wood components. But Revell pioneered the plastic kit with their 1910 Maxwell model that was essentially a pull toy. Revell later launched the Highway Pioneers series. In 1957, Budd Anderson at AMT had the idea to offer plastic promotional models as kits along with extra customizing features. This allowed kids and adults to be creative and build any car they wanted. Other kit manufacturers such as Revell, Monogram and Jo-Han were in hot pursuit. These manufacturers used the magazine titles at the left to promote their products.
SLOT CARS:
Just as with model car kits, slot cars experienced the same rapid evolutions in technology and materials. Lionel pioneered an electric racing set that was offered from 1912 to 1915. Marklin in Germany had a racing set from 1934 to 1938, and Marx in the U.S. introduced the Electric Speedway in 1938. But after WW2, numerous innovations occurred in the U.K. including a monorail system, slot car tracks and both 1/32 and HO scale designs. Scalextric was introduced at a toy show in 1957, and other U.K. companies refined designs and introduced products - VIP, Wrenn, SRM, Airfix and others.
In the U.S., the first commercial track appeared in Kalamazoo Michigan in 1956. This grew to an estimated 3,000 to 5,000 commercial track by 1966. American manufacturers such as Aurora, Strombecker, AC Gilbert, Eldon, Revell and others introduced home racing sets, component parts and slot cars. Aurora's offering was HO scale and based on the design by Derek Brand in the U.K. In 1963, the Wall Street Journal estimated the market size of the hobby at $100 millon USD.
THE GOLDEN AGE:
The stage was set for the golden era of model cars and slot cars in the U.S as indicated in the timeline below. The post WW2 kids ("boomers") who were born in 1946 and thereafter were reaching age 10 just as these plastic models and slot cars were widely available. The demand was high, and these magazines featured many "how to" articles and provided ideas for model construction. This boom was further enhanced by the America's long term love affair with the automobile and the huge interest in hot rods, customs, muscle cars, sports cars and motor racing that boomed after WW2.
This boom lasted until the mid 1970s, when interest declined to a point where just the true hobbyists were left. This decline has been attributable to many factors: (1) the rising cost of plastics; (2) the emergence of radio controlled cars; (3) the effect of Japanese made tin toys; (4) the changing interests of the kids born late in the baby boom (which ended in 1964), and, (5) in general, the end of an exciting era as gas prices, safety and emissions regulations impacted the character of automobiles.
The timeline below shows the major titles dedicated to car models and slot cars. Note that some automotive magazines such as Rod & Custom and Car Craft also had feature stories and product information on model cars.
CONTACT US:
Email: info_99wspeedshop@yahoo.com